AL-RAHABI TRADING & INDUSTRIAL GROUP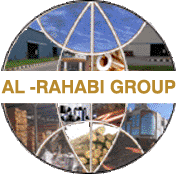 IN CONSIDERATION OF THE EXTENSION AND DEVELOPMENT MAINTAINED IN ITS BUSINESS SCOPE, THE BOARD OF DIRECTORS HAD FOUND IT APPROPRIATE TO CHANGE COMPANY'S NAME FROM AL RAHABI TRADING STORES TO A NAME THAT SHOULD TRULY CORRESPOND TO ITS QUALITATIVE AND QUANTITATIVE BUSINESS ACTIVITY IN THE MARKET.
ACCORDINGLY, THE BOARD OF DIRECTORS HAD DECIDED TO NAME THE COMPANY "AL RAHABI TRADING & INDUSTRIAL GROUP" AS AN ENTITY THAT EMBODIED BUSINESS AND INDUSTRIAL CORPORATES.
AND HENCE GOT ITS LEGAL FEATURE UNDER THE CITY'S MUNICIPALITY ACT NO.(6114). THAT CATEGORIZED THE COMPANY AS MULTILATERAL PURPOSE CORPORATE IN YEMEN.
SUCH EXTENSION AND THE SCOPE OF DEVELOPMENT OF AL RAHABI TRADING & INDUSTRAL GROUP IS MANIFESTED THROUGH ITS NINE BRANCH COMPANIES NOT ONLY IN LOCAL VICINITIES BUT ALSO OVERSEAS.
AL RAHABI FOR BUILDING MATERIALS, IT HAS BRANCHES ALL OVER THE COUNTRY CITIES AND IT'S HEAD OFFICE IS IN SANA'A.

YEMEN STEEL MANUFACTURING CO., LTD. INCORPORATED IN HODEIDAH.

ADEN INTERNATIONAL TRADING & INVESTMENT CO., LTD. (IT OWNS SAWMILL AND BLOCKBOARDS BLOCKBOARD PLYWOOD FACTORY).

UNITED SNACKS FOOD CO., LTD.

AL RAHABI FOR FOODSTUFF AND MARKETING CO., LTD.

YEMEN REAL ESTATE & INVESTMENT CO., LTD. COMBINES UNDER ITS MANAGEMENT (YEMEN MALL AND MAGIC PARK).
OVERSEAS
AL RAHABI FOR GENERAL TRADE L.L.C. (INCORPORATED IN DUBAI- U.A.E.)

ALRAHABI MANUFACTURING & ROLLING STEEL PRODUCTS Co., Ltd. UAE- SHARJAH- HAMRIYAH FREE ZONE (UNDER CONSTRUCTION) .

ALRAHABI SAWMILL, UAE (UNDER CONSTRUCTION) .
COMPANIES AGGREGATE ANNUAL INTERNAL & EXTERNAL SELLING CAPACITY IS ESTIMATED TO BE ABOUT ONE HUNDRED MILLION US DOLLARS, ENVISAGED TO INCREASE IN THE COMING YEARS.
OUR TARGET FUTURE PROSPECTS ARE OF WIDER SCOPE AND INCALCULABLE AMBITION AND WE BELIEVE THAT SUCH PROSPECTS ARE ATTAINABLE ONLY THROUGH MAINTAINING BEST RELATIONS WITH OUR CUSTOMERS AND SUPPLIERS AND RENDERING THEM OUR BEST SERVICES TO CREATE WITH THEM LONG TERM MUTUAL BUSINESS RELATIONSHIPS.
AS U.A.E. HAS EMERGED IN THE GULF AREA AS A BOOMING MARKET IN ALL-TRADE FIELDS, WE AS ANY WISE BUSINESS PEOPLE SHOULD DO, MANAGED TO HAVE A FOOT-HOLD IN DUBAI.